Zeige Detail-News an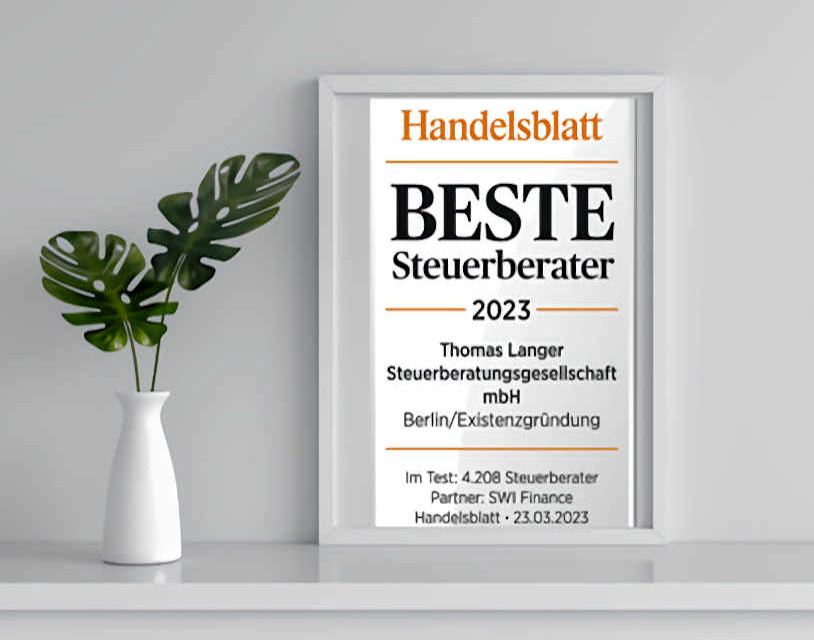 16.05.2023
Best Tax Consultants 2023 – We are once again a winner in the major HANDELSBLATT ranking
They are young. They are innovative, and they need a good tax advisor to support them in financial issues and implementation: We are talking about start-ups in Germany. The HANDELSBLATT has again honoured the best tax consultants for the year 2023 and we are proud to say that we once again stand on the winner's podium. Our tax consultancy office achieved above-average scores, especially in the specialist field of "Start-ups & Company foundations", and is now among the top tax consultancy offices in Berlin and Germany for the fifth time in a row.
Navigating Start-ups through the world of tax
"The fact that we have received this prestigious award every year since 2019 makes us very happy," says Managing Director Thomas Langer. This simply confirms our ongoing high quality in providing tax advice to innovative companies and in competing with other tax consultants in Berlin," he continues. Currently, the digitally oriented tax consultancy office at Berlin's Gendarmenmarkt oversees the finances of more than 700 clients, including SMBs, associations and over 200 start-ups.
Multi-tiered selection process
The selection process was carried out by the Hamburg-based market research company SWI Finance on behalf of the HANDELSBLATT. More than 30,000 nominated tax consultancy offices and joint-practices were invited to compete in various tax fields such as international tax law, business start-ups, inheritance & gifts or business succession. In the end, 605 tax consultants and financial auditors made it onto the best-of-list.
The awards were presented in categories subject to city, specialist field, branch and overall ranking. The award-winning tax offices in the overall ranking are those that achieved at least 70 percent of the highest possible number of points. Those tax consultants that achieved the highest possible score in the categories "specialist field" and "branch" came out top.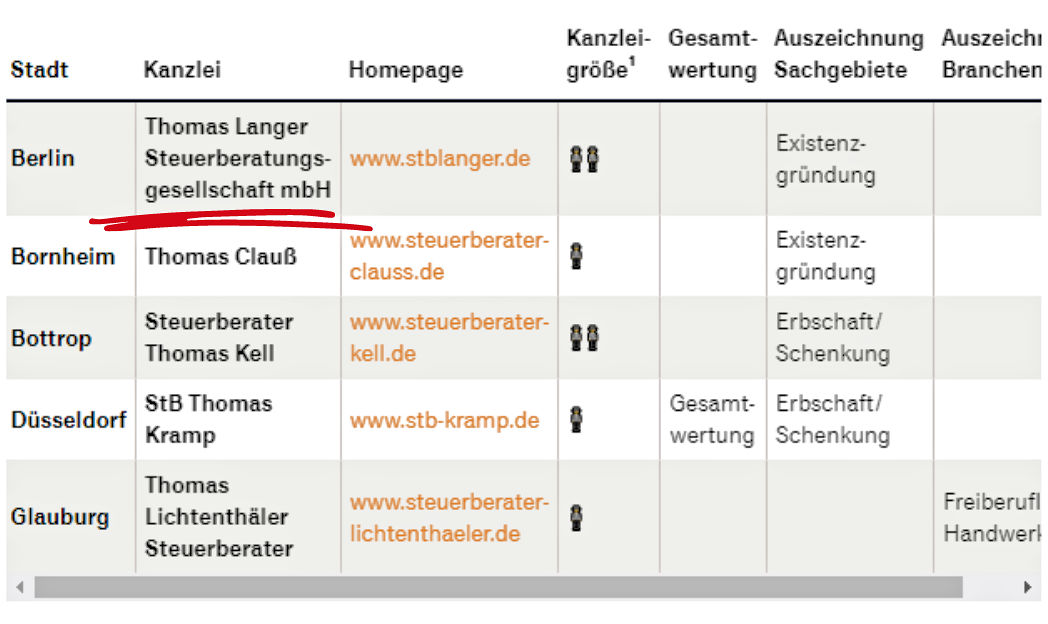 The best tax consultants and financial auditors in Germany 2023. (Source: HANDELSBLATT/SWI)

Test design with questions on specialist fields
The test design was developed in cooperation with the corporate law firm Buschmann Partnerschaft from Hamburg. In January and February 2023, participating tax consultants had to answer questions online about their specialist fields and their office structure within set time limits - similar to the popular quiz show "Who Wants to Be a Millionaire?". Criteria such as professional competence, industry knowledge, service quality, innovativeness and employee satisfaction were evaluated.
Read more about the study here: SWI Finance

Image source: www.handelsblatt.com