Zeige Detail-News an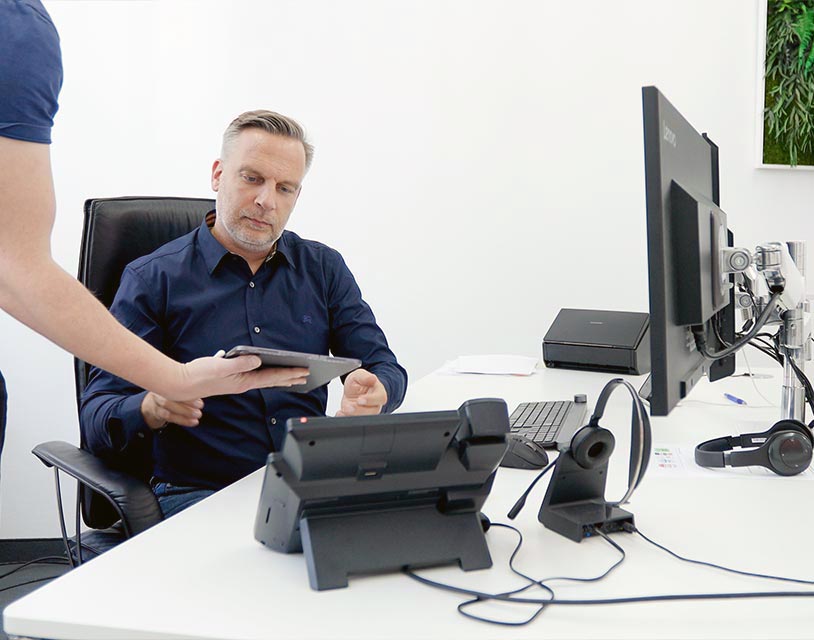 16.11.2021
Digital, paperless, specialised - on the right track to the future of our tax consultancy office.
What will the tax consultancy of the future look like? How do we remain attractive for clients and employees? Furthermore, how can digital technologies help us? To be honest, we don't have all the answers to these questions, either. However, we have already achieved a lot on the way to becoming a digitalised tax consultancy office. "I have always looked for opportunities to position myself differently in the market," says Thomas Langer. This pioneering spirit is paying off today. This is not only because the world is turning faster and faster, but also because digitalisation, `new work´ and a change in values are completely turning the everyday-work upside down in many tax consultancies.
We can also do it differently

Commuting files, boxes full of paper documents and metre-long filing shelves are passé for us. Traditional ways of working are being replaced by new ones - the paperless office and automated bookkeeping as well as the merging of processes, software and teamwork within the office. Data protection and data security always have the highest priority. We are preparing ourselves for the fact that artificial intelligence, machine learning and the almost inexhaustible computing power from the cloud will continue to revolutionise accounting.
Alone in our field
We started with the digital restructuring in 2016 and we feel like we are alone in our field of work. Some people also call us `first movers´, i.e. pioneers, because we jumped on the bandwagon of online client services early on. We work with DATEV Enterprise Online: we are a digital DATEV tax consultancy office and use our acquired first mover knowledge to support entrepreneurs in the digitalisation of their own business processes. At the same time, being able to work anywhere regardless of location as well as having strong co-operations ensures that we are perceived as an outstanding tax consultancy far beyond the borders of Berlin, particularly for corporations, start-ups and federal associations.
Digital Shift, now!
Digital options give us valuable time for customised client care and advice as well as personal communication within our network of staff, clients, specialists and partners.
In other words - digital and face-to-face are not contradictory. Our advice: If you don't want the future to surprise you one day, you should surprise the future. Gradually convert the tax processes to the digital world. You can start with just a few clients because not all of them are equally well suited for digital cooperation. In the beginning, we tried to think like a start-up and kept questioning the status quo: What if work in the field of tax would be completely different in the future? This led to a variety of changes and knock-on effects as staff and clients alike all became more involved.